Events will be streamed online via Zoom unless otherwise stated.
Events can be joined by either computer or via smartphone App. You will be asked to firstly download the zoom application before you join. So make sure you allow a bit of extra time.
---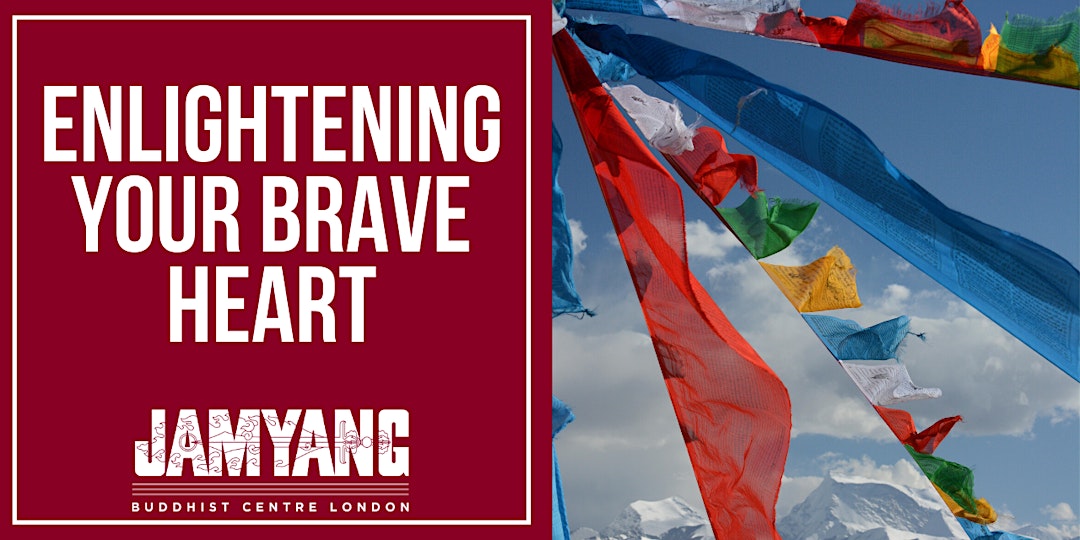 SHANTIDEVA'S – ENLIGHTENING YOUR BRAVE HEART
Wednesdays: 6:30pm – 8:30pm (GMT)
Host: Jamyang London
Whether you are new to the study of Buddhism or have been studying or practicing it for years, this course will provide you with the opportunity to develop your heart to overcome anger, frustration, depression and other negative emotions to face the modern world today with an attitude of caring and cherishing oneself and others including the environment around us. We will take you through Shantideva's 8th-century text: The Way of the Bodhisattva or, in Sanskrit, the Bodhicaryavatara
You can join these events by checking the online calendar on our home page.
---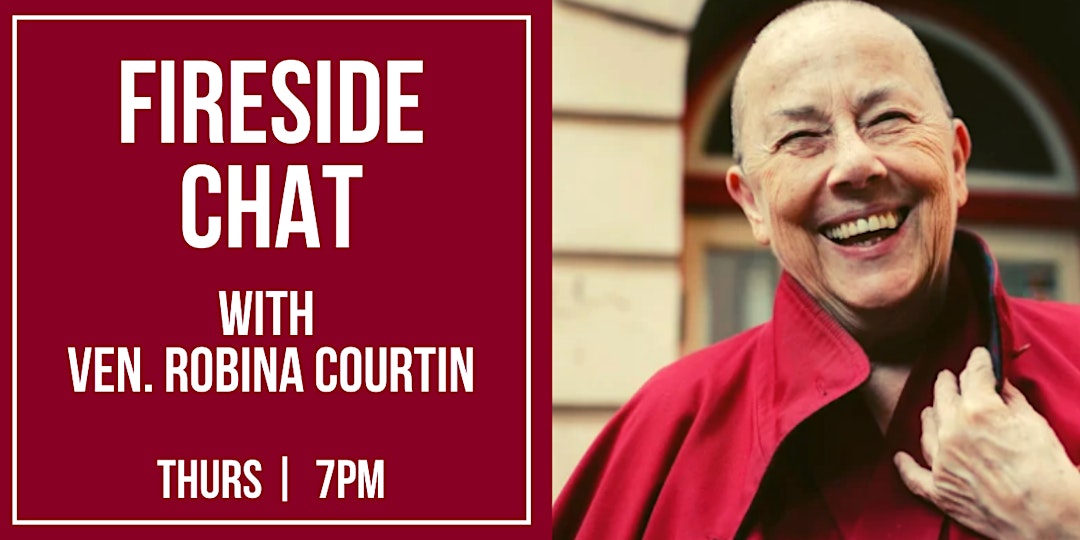 VEN. ROBINA CURTIN – FIRESIDE CHAT
Thursdays: 7:00pm – 8:30pm (GMT) [From 2nd – 30th April 2020]
Host: Jamyang London
Join us for a series of 5 "Fireside Chats" hosted by Venerable Robina Courtin and Jamyang London. The term "Fireside Chats" comes from a series of evening radio addresses given by U.S. President Franklin D. Roosevelt between 1933 and 1944, where he addressed topics like the recession and World War II. His tone and demeanor communicated self-assurance during times of despair and uncertainty. This is an opportunity for you to listen to Venerable Robina share informally on what has been on her mind during the previous week, with a space at the end for questions.
You can join these events by checking the online calendar on our home page.
---
UNIVERSAL EDUCATION (UE) COMMUNITY MEETINGS
Thursdays: 8:00am, 5:00pm, 6:15pm (GMT) [From 2nd – 30th April 2020]
Host: Foundation for the Development of Compassion and Wisdom (FDCW)
As social distancing and self-isolation measures are being put in place throughout more and more countries, FDCW is offering a range of online resources to help meet the new challenges that we all now face. In March our senior trainers Marian O'Dwyer, Martha Cabral and Wendy Ridley began offering weekly online sessions called "UE Coming Together". These sessions proved so popular that we decided to offer them in April too with the help of FDCW facilitators such as Elaine Jackson, Hilary McMichael, Kitty D'Costa and Olga Sierra Santos who have volunteered to lead sessions.

Each 60-minute session includes a guided meditation on a universal value such as Courage, Resilience, Kindness and provides a safe space for participants to share and support each other in a heartfelt way. Around 20 people take part in each drop-in session which are open to everyone to attend.

Sessions are free to join and will be offered on every Thursday throughout April. You can easily register via the following links:
---
BUILDING INNER STRENGTH – 16 GUIDELINES LEVEL 1
Thursdays: 8:00am -11:00am (GMT) [From 7th – 15th April 2020]
Host: Foundation for the Development of Compassion and Wisdom (FDCW)
FDCW will be offering the 12-hour course Building Inner Strength – 16 Guidelines for Life Level 1 live online in April. Exploring values such as compassion, humility, aspiration and courage, this course offers very practical tools and specific techniques for transforming how we think, act, relate to others and lead a meaningful life.

The course is facilitated by Marian O'Dwyer, one of our senior facilitators. She offers all levels of 16 Guidelines programmes and has 30 years' experience teaching mindfulness-based practices
Are you new to the 16 Guidelines?
Have you always wanted to attend a course but it wasn't offered in your area?
Have you attended a course before and would like to refresh your understanding of the Guidelines and tools?
This course is an excellent opportunity for all and if you are interested in becoming an accredited 16 Guidelines facilitator, Level 1 is the first step.
We are offering the course at two different times to make it accessible in all timezones. The course fee for this 12-hour course is £80 and includes a copy of the course handbook.
Course dates: The course is delivered in four live sessions on the following days:
Tuesday, 7 April
Wednesday 8 April
Tuesday, 14 April
Wednesday, 15 April
Attendance of all four sessions is required to receive the end-of-course certificate.
Session times: The live sessions take place from 8 am to 11 am UK Time.
Please check the session times in your timezone below:
9:00 to 12:00 – CEST, eg Madrid
12:30 to 15:30 – IST, eg New Delhi
15:00 – 18:00 – MYT, eg Kuala Lumpur
17:00 – 20:00 – AEST, eg Sydney
19:00 – 21:00, NZST, eg Wellington
For further information visit www.compassionandwisdom.org
---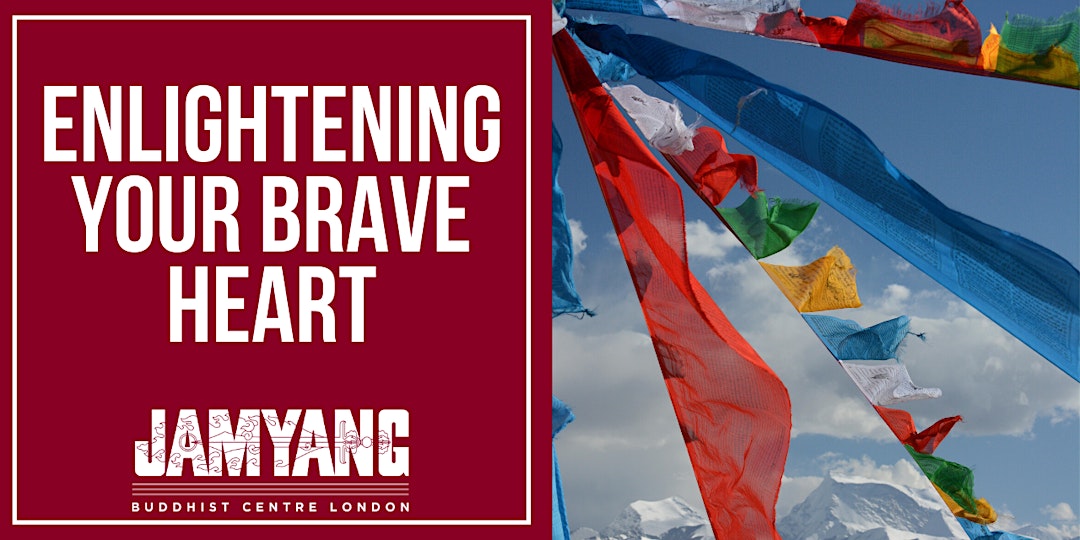 ONLINE RETREAT DAY – ENLIGHTENING YOUR BRAVE HEART
4th April 2020: 10:00am – 4:00pm (GMT)
Host: Jamyang London
The retreat day brings together what you have learned over the previous 4 to 6 evening classes in the series with a discussion and interactive activities including Buddhist meditation and reflection techniques.
The facilitators will take you through meditation, discussion, interactive activities and reflection. In order to get the most of it, we suggest attending a minimum of 4 evening classes of the course "Enlightening Your Brave Heart" in one module to book the retreat day.
You can join this event by checking the online calendar on our home page.
---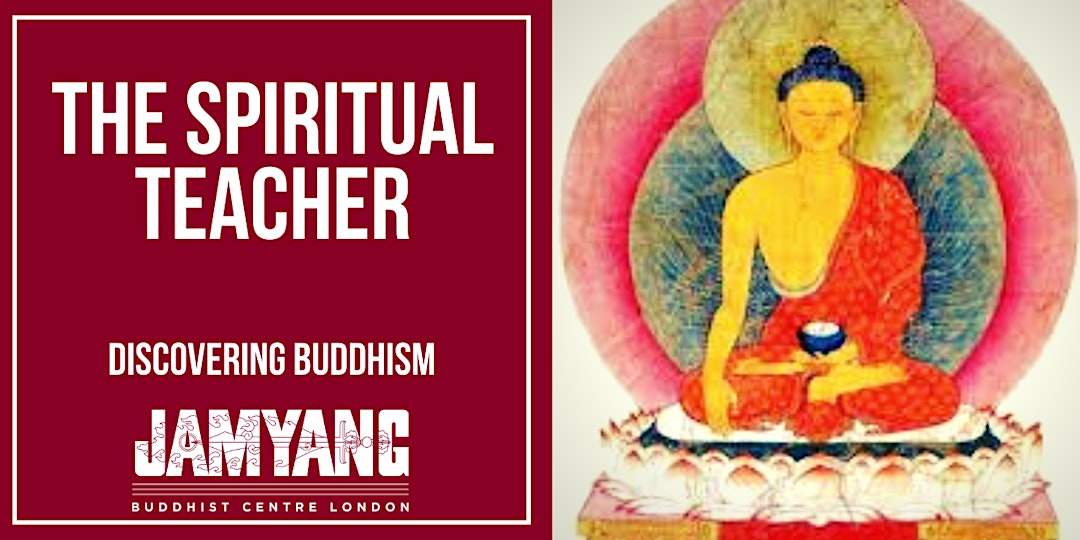 THE SPIRITUAL TEACHER WITH MIKE MURRAY
18th April 2020: 10:00am – 3:30pm (GMT)
Host: Jamyang London
10:00 – 11:30 | Session 1 – Finding yourself some Buddhist spiritual teachers
Generation of merit and setting a motivation for the day
Online discussion "What are differences between Buddhist spiritual teachers and other teachers?"
Why look for a relationship with a living Buddhist spiritual teacher?
What qualities are you looking for in a Buddhist spiritual teacher?
What are the qualities she is looking for in you?
What is a healthy connection with a Buddhist spiritual teacher? Going in to a relationship with your eyes wide open.
Questions and Answers
12:00 – 13:00 | Session 2 – Relating to and working with the various types of Buddhist spiritual teacher once we have made the connection
You can join this event by checking the online calendar on our home page.
---
Donations – The virtuous practice of Generosity
By donating for online classes you will help create the conditions for the teachings to be available, and to supporting the Centres, the Teachers and the Staff during the global Cornavirus crisis. We thank you so much for supporting this incredible community.